Where are you from/ where do you live? Where are you from/ where do you live?
I'm from a town called Paisley in Scotland and very proud of my Hometown. Its Scotland's largest town and buzzing with creativity and art.
Why are you interested in mental wellbeing?
I'm interested in mental wellbeing because I believe in all living humans/animals deserve to be free of stigma  of some peoples toxic perception of what they believe mental health is .If I can enable others through my own self awareness/development because of my life journey and recovery then that also improves my wellbeing. Sharing is caring and I love learning from others . As BT would say: it's good to talk.
What makes you feel good?
Oh a good laugh every time! My little Jack Russell's; Fidget is the little independent one and Bounce is the most laid back Jack ever and also Fidget's father. Then there is the boisterous Rory who was a rescue from Cyprus. They are my hairy bairns and my lifeline at times to the outside world. Definitely my camera which connects me with all living things and the environment and keeps me sane to be honest lol. I love people and their stories, gardening, which I've just recently reconnected to and loving it again. It just feels great to BE again if that makes sense.
Also advocating for #ACES (Adverse childhood experiences) along with #TheWellbeingSignpost #TheMindfulImage #LauraMcGlinnPhotography #TheMindfulCharm keeps me very busy and collaborating with Like minded peeps from all over the globe, creating informative support,in which are available on Facebook, Twitter, Pinterest and Instagram.
What makes you angry?
Bullies, liars and judgemental people .Oh my blood pressure just went up there! Takers in life who don't give back. Anyone who abuses in any shape or form of any living human or creature.
What can we expect from your blogs?
Hopefully insightful a different perspective and learning from various others. A very mindful approach and a lot of tongue in cheek at times. It's ok to laugh, the one thing that I do hope is contagious. Very visual, pictures of life out there from my eyes view with the camera. Also, a lot about my dogs and my life's journey.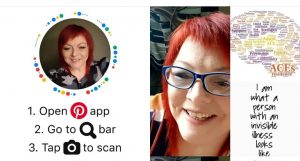 Laura's blogs
I came away from WRAP with a real purpose #recovery @stargazer1210
Good mental health at work: it all begins with a conversation #timetotalkday
The amazing pictures from our mindfulness and photography workshop at Kelvingrove
Shingle Bells: an alternative Christmas poem from @stargazer1210
Getting lost on Mull helped me find something special #journeys
What if she doesn't like me any more? Seeing my dearest friend for the first time after my mental illness