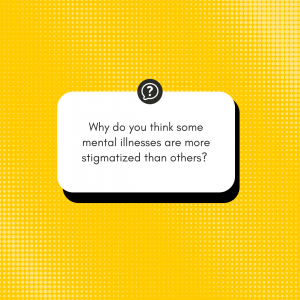 Happy new year everybody!
I thought we'd use the first blog post of 2022 to share some of your responses to the Instagram stories we posted back at the beginning of December.
I don't know about you, but I can barely remember what I had for breakfast this morning, so let me jog your memory.
In April of 2021, Mind Waves were awarded funding from See Me Scotland to make three animations. The first animation was released on December 2nd and you can watch it here.
This animation was titled 'Then stigma comes along', and discussed the stigma that is faced by people with severe, enduring mental illness. We also posted some Instagram polls and questions to accompany this animation, and hear your thoughts on stigma.
We started off with a few poll questions:
Do you think there is still stigma around mental illness?
and
Do you think that some mental illnesses are more stigmatised than others?
These polls received unanimous results, 100% yes for both questions. After this, I posted a question box to give you a chance to share some of your anonymous thoughts around this subject. The question box read:
If you answered yes to the last question, why?
The responses were as follows:
"Lack of accurate/any education in schools and news consumed by adults."
"Harmful stereotypes perpetuated by films and TV shows"
 "I have experienced stigma from others and within the mental health profession."
"Representation of psychosis, schizophrenia etc in media perpetuates this."
"Lack of information, fear of the unknown. Talking about mental illness makes us (myself included) feel uneasy."
"People fear what they don't understand."
"Depression/Anxiety is almost seen as trendy now. Severe mental illness still makes people feel uncomfortable."
More knowledge about some mental illnesses VS. not much about others. Some behaviours 'scare' people more.
Wow! I was really interested by these responses, and would have liked to read more of your thoughts. Whenever I post a question box, it is always full of well thought out, eloquent responses and I would love to read a full blog post written by any one of you.
Remember that you can send an email to maddy@mindwavesnews.com if you're interested in writing something for us. It can be as short as you want, and can be anonymous or named. Also don't forget that I am here to help and edit, so if you have a jumble of thoughts that you can't figure out, I'd be happy to help via email or zoom.
A few of the responses named the media as a perpetrator of misinformation and stigma around certain mental health conditions. Last year, I wrote a blog post on 5 films and TV programmes with 'Good' representation of Mental Health conditions', which you can read by clicking here.
Mind Waves is primarily interested in sharing positive news around mental health, so if you've watched or read anything lately that had a realistic portrayal of mental illness in it, let me know and I can add it to the next post 'Top 5' post.
There's a new post coming soon that will be focusing on another question box we posted on Instagram focusing on your lived experience of stigma around mental health. Make sure you follow us on Instagram @mindwaves_scot to join in on the next round of questions.