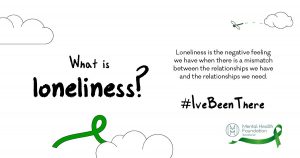 Over the past few weeks, we've been sharing our community correspondents' thoughts on the #MentalHealthAwarenessWeek theme of loneliness, and also talking about some of the resources available on the Mental Health Foundation's website. To read their loneliness and mental health report, click here.
For our last post on loneliness, I thought I would share some of the responses to the polls and question boxes we posted a few weeks ago.
The first poll read : Do you ever feel lonely?
The response was 100% yes.
The second poll read: Do you feel ashamed about being lonely
The response was 93% yes and 7% no.
Then we handed the mic over to you by posting a question box that asked: How do you combat loneliness? Here were some of the most common responses:
Call someone for a chat
Check in with friends
Exercise
Practice mindfulness
Watch a comforting film/read a book
Hug my dog – this was a popular one, which I wholeheartedly agree with!
These responses might seem simple, but a lot of the time it can be really difficult to stop feeling lonely. The Mental Health Foundation found a direct correlation between long term loneliness and poor mental health, which means that it's important to try and combat loneliness whenever you can.
Looking at the results of the poll, it's clear that loneliness is widely experienced, but still feels shameful to talk about. Why is this? Why are we ashamed to talk about something that we know we all experience? I don't have the answer to that question, but I do know that the above suggestions are a good place to start when you're experiencing feelings of loneliness. And above all, remember that these feelings won't last for ever, and even if it feels like it, you are never truly alone.
And there we go! That wraps up our final blog post on loneliness for a while. Thank you for reading and voting in the polls, and an extra special thank you to Laura and Hilda for your excellent posts. Over the next few weeks we'll be sharing more of our anti-stigma animations that explore the stigma of severe and enduring mental illness, so watch this space! To read the blog post that details the first animation, 'When stigma comes along', click here.
We're always happy to hear from you! If you want to get in touch for a chat, or if you have an idea for a blog post that you want to brainstorm, email maddy@mindwavesnews.com