It is important to include truthful depictions of mental health conditions in films, TV shows, all of the media we consume. I believe that we should strive for media that is reflective of the world we live in, and if we want that, then mental health stories should be told in a nuanced and honest way. The word 'good' is in quote marks in the title because sometimes 'good' representation of MH doesn't necessarily mean that it's all positive. I like to watch TV shows and films that are honest about the low points of having mental health problems, but also treat the characters who experience them as complex humans- as more than their struggles.
For this weeks blog post, I thought we would talk about 5 pieces of TV/film that include realistic and positive depictions of mental health stories. During the COVID-19 pandemic, TV and film-watching has increased exponentially, so let's chat about some things we can watch that feel well-researched when it comes to mental health.
The Umbrella Academy
This Netflix original show depicts its six living (and one ghost) main characters dealing with the long term effects of their adoptive father's abuse. The depiction of mental health in this programme shows that different people can have different responses to similar life experiences, in this case the abuse of a parent. (and the pressure of having superpowers, which I'm pretty sure is a less widespread problem) Something that I felt was sadly a little bit revolutionary in this show was watching Vanya take her anti-anxiety medication onscreen. After watching countless shows and films depicting characters using unhealthy coping mechanisms to deal with their problems, I thought it was refreshing to watch Vanya take her medication in a quiet, routine sort of way.
2. New Moon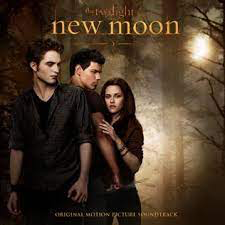 This might be betraying my questionable taste here but bear with me. In this film, when Edward breaks up with Bella it triggers a depressive episode for her and she becomes unable to function. The viewer watches Bella sit in a chair, motionless, while the camera pans around her and the seasons change. Sometimes, when your mental health is bad, it can feel like the world is continuing without you, and you can't join in no matter how hard you try. Although I will say, the Twilight films also have some pretty solid representation of toxic, co-dependent and controlling relationships – everything has its faults 😉
3. This Way Up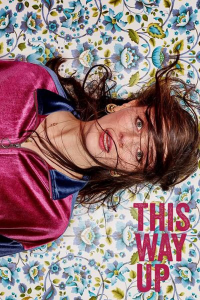 This show follows Aine (played by Aisling Bea, who is also the screenwriter) as she checks out of rehab and navigates life post mental breakdown. I love everything about this show, but especially the way it paints Aine's personality. She is funny, clever and interesting despite her mental health issues. This makes it seem like the bar is on the floor for mental health representation in media – and sometimes it honestly feels like it is. It's important to portray people with mental illnesses as three dimensional humans – because we are.
4. Crazy Ex Girlfriend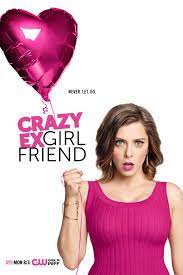 I am obsessed with this show – and it's a lot more subversive than the title leads you to believe. Its lead character, Rebecca, battles with mental health issues for before being diagnosed with Borderline Personality Disorder in season 3. Rebecca doesn't accept this diagnosis immediately, she battles with her doctors and herself, whilst showcasing a lot of the more stigmatized symptoms of the disorder. Crazy Ex-Girlfriend doesn't depict mental illness through rose coloured glasses, but it shows that you can struggle with a mental health condition and still perform well in your career and surround yourself with people who love you. Its honestly one of the best portrayals of mental health I've ever seen in media.
5. Good Will Hunting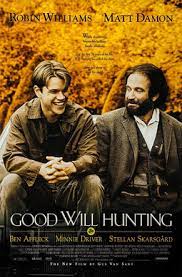 This film is an ode to the wonders that can happen if you find the right therapist. It's also about Maths and Minnie Driver, but I am essentially right.  I liked the way that this film helped to de-stigmatize men feeling emotions. Here's another instance of the bar for mental health rep being depressingly low, but I said what I said. Therapy is good and the right therapist can be life-changing. Matt Damon's character Will suffers from episodes of anger caused by abuse suffered in his childhood, and I believe that a lot of his issues are worsened by repressing his emotions and using violence as a coping mechanism. I hate the way that media often reinforces the idea that men have to be strong and silent, and this film just shows that talking about your feelings is a good thing.
So, that's it for now. If you think I've missed some good ones, feel free to message our Instagram @mindwaves_scot or DM us on Twitter @MindWaves1 – maybe we could make this a regular thing! I'm up for talking books, music videos, comics, any fictional media. We should have high standards for the media we consume, even when we're watching it to relax.