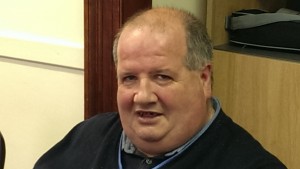 Where are you from?
Nitshill in Glasgow.
Why are you interested in wellbeing?
I have depression, but I'm feeling so much better now than I was, because I've made connections with other people who have been through the same. That's what I want to do for other people- I want to tell my stories to help other people feel better.
What can we expect from your blogs?
Mostly things about my life and about Glasgow because I've lived here all my life. I also enjoy a good sing-song, so you might even hear some songs.
What makes you feel good?
Being with other people and singing, especially ballads and songs that tell stories.
What makes you angry?
Injustice, especially people taking a loan of people that can't stand up for themselves.
We're always looking for new community correspondents, find out more about getting involved here.
John's posts
The best decision I ever made was accepting that I have a mental health problem
Please listen- today I'm not mad, I'm just feeling sad
A song for Ireland: a song of happy days
It's a wonderful day: John makes the most of his bus pass
Standing up for myself and others makes me proud
I think of myself as a snail, I've been supported to come out of my shell
A joyous occasion: the birth of my great niece
When I was a lad – a song about community spirit
My bus pass opens up my world #100faces
Show me something new: Turner Prize comes to Glasgow
I can't believe I'm starting university
What a high: civic reception for our sociology course
I had no clue what sociology was, but I'm studying it and enjoying it
Fighting for the right to vote: Helen Crawfurd, local here #herstory
100 years since the rent strikes, my inspiration is Mary Barbour 
The friendly games in the friendly city #Glasgow2014
Dolly mixtures, outside toilets and community spirit- a song