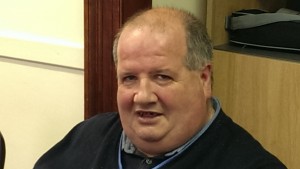 Community Correspondent John Dane shares the story of the arrival of his great nephew
Christmas was a more than usually joyous occasion for me and my family last year.
As well as the usual festive activities, we had another celebration. At 3.33 on boxing day, my niece Sarah gave birth to a healthy baby boy called Domonic: my sister's first grandchild and my first great nephew. I am now a great uncle for the first time.
On 27th December, both mum and baby were allowed home. There then followed a hectic ten days, when my sister's door and phone never stopped with family and friends anxious to see and hear how Sarah and Dominic were getting on.
On 23rd January, all of us family and friends came together at St Patricks in Kilsyth to celebrate the baptism of Dominic, with plenty of photo opportunities after. It was then into the hall for a bite to eat and the cutting of the cake. We had the usual family and friends catch-up, with people we only seem to see at these special occasions with promises to keep in touch: promises most of us seem to make but seldom keep.