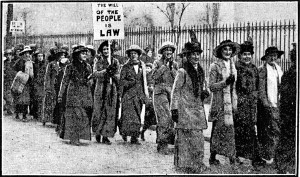 At our last Mind Waves meeting, we talked about the people who inspire us in our lives. Our Community Correspondent John Dane has written this about one of his heroes, Mary Barbour, who lived in his native Govan. John is an active campaigner and has written about how he feels proud to stand up for himself and others

Mary Barbour was born on 22nd February 1875 in Kilbarchan, Renfrewshire. She was the third of seven children and in 1887 the family moved to Elderslie. Mary worked as a thread twister, eventually becoming a carpet printer.
In 1896 she married David Barbour and settled in the Govan burgh of Glasgow. She then joined and became an active member of the Kinning Park Co-operative Guild: the first to be established in Scotland.
Mary joined the Independent Labour Party and Socialist Sunday School. The Glasgow rent strike during the First World War brought her to the forefront of local political activity. Because of large rent increases by unscrupulous landlords, the Glasgow Women's Housing Association was formed in 1914. It was in Govan that the first active resistance to rent increases appeared.
Mary Barbour was instrumental in forming the South Govan Women's Housing Association. As a working class housewife with two sons and her husband an engineeer in the shipyards, she was energetically involved in all its activities from organising committees to the physical prevention of evictions and hounding sheriff's officers. This type of activity spread to the rest of the Clydeside area. The situation came to a head on November 17 1915 with one of the largest demonstrations in Glasgow's political history.
This resulted in thousands of women, along with shipyard engineering workers, marching through the streets of Glasgow the the Sheriff Court where the demonstration turned to near riots. Out of this defiant stand came the Rent Restriction Act bringing a change to the housing system in Glasgow. The Act also affected rent and housing conditions in other parts of the country. This made Mary a working class hero in Govan and much further afield. Together with Helen Crawfurd and Agnes Dolan, Mary in June 1916 founded the Women's Peace Crusade in Glasgow and was a regular speaker at its many rallies in Glasgow Green.
In 1920 Mary stood as one of three candidates for the Fairfield ward of Govan and was elected to the town council as its first woman Labour Councillor, but that's a story for another time.