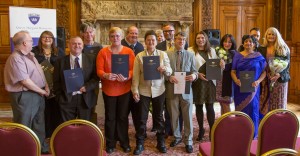 A post from our Community Correspondent John Dane
I would like to tell you about a great day I had. Along with eleven other students, I just completed a sociology course and received a civic reception from Glasgow City Council. Our course, which was a joint venture by Queen Margaret University Edinburgh, GAMH and Glasgow Open Museum, involved looking at sociological theories through art.
On Friday June 26, we went to the City Chambers along with our friends and family and received a civic reception from Bailie Philip Braat on behalf of the Lord Provost. Each of us was presented with a certificate of completion from the Dean of the University. A few of the students then spoke about their experience on the course and we had a buffet and mingled with other guests.
We then retired to a local watering hole where we tried to wind down after all the excitement of the day, although for the following week I still found myself on a high.
We are now finished our stories about how we related the artwork to different sociological theories.. It will be sent away to the exam board for makring and hopefully we will all receive a pass mark. It is worth ten credits at level seven, which means what we've done is equivalent to first year university study. So here we are, waiting with baited breath for the results coming through the post.
You can see John and his course-mates' work in a special exhibition at the Mitchell Library until August 24.