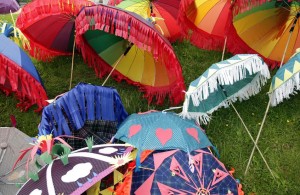 A review from our Community Correspondent Lorna Cosh
The Power of Giving at The Bridge, Easterhouse was a spectacular event.
On arriving we entered the auditorium which was dark and smoky , giving a fantastic atmosphere of excitement and anticipation for what was to
come.
I attended as part of the GAMH "Our Histories" group. We were shown to a large round table in front of the stage that we shared with Clack & Yack, they are a group that knit & chat and they crocheted all the  table centre pieces for the event. Sitting at the beautifully laid table I felt very spoiled and very warmly welcomed.
The power of giving event was exactly that – as everyone was given gifts from different groups. We were all presented with t-shirts, tea towels, scented handmade candles, handmade note books and a book of poems. Each gift I received was special to me as it was hand made from someone who put their heart and soul into producing it.
Keara Murphy was the host of the event and she made everyone feel welcome. Her funny and warm personality connected easily with the audience telling a few jokes about herself and all her names which I think totalled to about 12.
Peter, a storyteller from GAMH 'Our Histories' group – and a Mind Waves Community Correspondent-  stood on the balcony with a spot light shining on him as he told his very amusing story about 'Signing up, Growing up'.
Sofia read her story entitled, 'Women Make Glasgow', and how her mum is a big inspiration in her life. Then there was Bernard, propping
himself on a ladder as he read 'Growing Up In Milton' and telling us all about how he tried to deny to his mother being near a bonfire despite his eyes being like 'Kung Fu Panda's'!
The pupils from Dalmarnock Primary School played their Samba band music very enthusiastically and had the audience tapping their feet! The ENABLE group of adults performed a very funny and entertaining play about a date with a very handsome James Bond character. The "All right" writers' group shared some of their amusing and observational poetry with us. The event closed with a wonderful choir from the Lodging House Mission.
I enjoyed the whole event and the food was very tasty. The company at our table was very amusing and I left the event with lots of lovely gifts and some new friends!