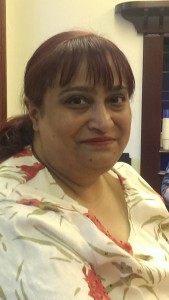 What's your name and where are you from?
I'm Sofia Ghani and I'm from Govanhill in Glasgow. I lived in Brighton for a few months 20 years ago, but I missed Glasgow too much. I love the place.
Why are you interested in mental wellbeing?
I'm just interested in people. I want to learn from other people and share what I have to say.
What can we expect from your blogs?
I feel I've written half the truth so far in my life. One day I'll have the courage to write the other half and I'll share it.
What makes you angry?
My past: things people have said that made me feel like nothing.
What makes you feel good?
Seeing my wee boy every morning. I'm happy with what I've got.
We're always looking for new community correspondents, find out more about getting involved here.
Sofia's posts