Nothing tastes as good as a home-cooked meal, made from ingredients you've grown and shared with people who understand you.
On a rainy afternoon at Rosebank Garden in Kirkintilloch, the air was filled with the mouth-watering smell of a vegetable curry and the sound of laughter. We managed to twist a few arms to get the secret recipe out of them.
Rosebank Curry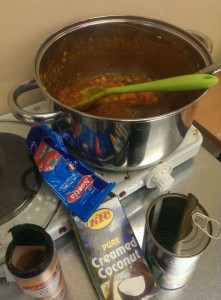 What you need:
onions (home-grown in this case, but any will do)
lentils ( red or tinned green cook quickest)
any veg you love (home-grown courgettes and some sweet potato this time).
curry powder ( as much as you dare)
a couple of cloves of garlic
half a block of coconut cream
salt
two tins of chopped tomato
a squeeze of tomato puree
oil
What you do:
1. Fry the onions for 5-10 minutes and add the curry powder
2. Stir in the lentils and veg
3. Pour in the chopped tomatoes
4. Add the garlic, tomato puree and coconut
5. Leave to cook for around an hour, adding more water if you need to.
Serve with rice or naan and some good friends.
What about you? Is there a recipe that always makes you feel good? Share it with us.
You can listen to some of the people who attend Rosebank Garden talking about why gardening is good for their wellbeing here.