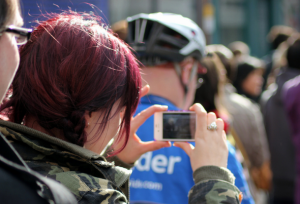 A post from Mind Waves steering group member @jennifermjones

Let's start with a political writing cliche. The Westminster elections, they are hard to ignore – especially so soon after the passion and energy of the Scottish Independence referendum. I've read so much about about both, from and about grassroots politics, across commentators and the participants within, that I find myself cringing when I open an article with a statement like the one above. In fact, I've actively avoided writing about 'politics' since my own experience of politicisation played a major part in how I caused,  avoided and failed to address aspects of my (at the time) not so good, mental health.
Cards on the table, I'd probably lived with unchecked depression and anxiety for the majority of my twenties. I dealt with it by through throwing myself into work, education – and in the larger numbers, the politics of higher education and media-related activism. Context: I've been working on a PhD about alternative media and major events for the best part of 5 years (with several breaks for several mental health related 'controlled explosions') but work and working hard was where I felt like I could be 'me' – and escape from the bits I didn't like.
But as it turns out, you can't really run away from yourself and external validation through ticking boxes on your to-do list only goes so far…  if you are anything like me, too much is never enough. In a research environment, I'd be the first person to go native with 'subjects' I was suppose to be studying, many of whom were media activists – and in a higher education context, when changes were announced to the funding structures of the students I was teaching at the time (from £3000 a year to £9000 a year in England and Wales – and I had my own education for free!) – it wasn't long before I found myself not quite believing or agreeing with the social and political systems that I had taken for granted (i.e. ignored), in fact, I think I went from 'apathy' to 'occupy' in roughly six weeks.
This would be what I would call my 'ah-ha' moment. The moment that couldn't be put back in the box, the point where my work, research, education, personal experiences prior to that didn't even make sense anymore. Like I was seeing the world through a different set of specs. I'd say that was the moment I started to feel politicised. And I wasn't prepared. I threw myself into everything to the point of burnout, and when I burnt-out, I didn't know what to do with myself anymore. I felt like I was a failure, I felt like nothing I could do could fix it – and I was insistent that it was my role to fix it.
As quickly as the hopeful energy from all these new grassroots movements arrived in my life, realising that I couldn't change the world overnight, frustration and anger gripped me and pulled me down into an even darker place than I was previously. When apathy returns, especially when you know you used to care and it was entirely possible to, is probably up there with some of the worst feelings in the world.
Certainly, it could be argued that there has been a lot of 'ah-ha' moments for many since September. The surge in political engagement through rising political party membership, the ongoing dialogues around political literacies and civic engagement across all contexts and even imagining what and how the next UK government might look and work by people discussing across multiple digital and social media platforms, all of which is showing more and more becoming/staying active in the political process. It's exciting, it's terrifying and all the other emotions in-between. What comes up, must come down – and if this was your first 'ah-ha' moment, with a crash that for many felt like a bereavement or breakup, investing time and energy into the cause, making friends with like-minded individuals, feeling part of a wider community and working towards a particular time and date – only to wake up the morning after the night before and feel a little… redundant. The event is over, but you haven't quite caught up with the reality yet.
In terms of my own mental health, I recognised many of the same feelings and processes that I had experienced before. After the crashing lows of my first 'ah-ha', I'd said to myself I would never get involved in politics again (yeah right…), but I was gripped and drawn to the excitement of being back in Glasgow whilst it was happening around me. However this time, I felt like I was in a better position to support myself in order to be able support others.  That's the difference.
I set myself some rules to help keep myself safe – and I'll be sharing them on Mind Waves soon.
Author: Jennifer M Jones, Researcher. University of the West of Scotland. Jennifer is currently a project coordinator and a part-time researcher, completing a PhD on major events and social media with a focus on citizen journalism as a device for community empowerment and how digital tools are used in an events and cultural context. She is a member of the Scottish Greens and coordinator of the Glasgow Southside sub-branch group.