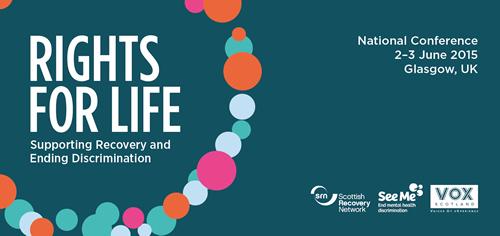 The Scottish Recovery Network, See Me and Voices Of eXperience have now opened registration for Rights for Life: Supporting Recovery and Ending Discrimination.
Rights for Life is a landmark national conference being held in Glasgow over two days on 2-3 June 2015, with a simultaneous online programme for those who can't attend in person. It is free to take part, and anyone interested in human rights and mental health recovery can register their interest.
We're excited to get involved, both on the day and sharing the online materials around the event. It's likely there will be some pretty lively discussions, so follow #rightsforlife to make sure you can have your say.
Find out more and register your interest here.