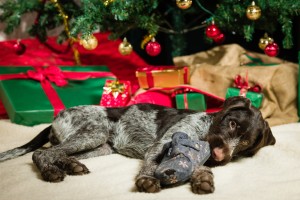 Christmas can be great fun. But it can also be tough. It can be lonely. Many of us want to reach out and do something to help other people, to remember the real meaning of Christmas.
With this in mind, we had planned to find a list of good volunteering opportunities around Glasgow over the festive period. We asked for suggestions of the best places to volunteer.
Perhaps what was most interesting is not the volunteering ideas that came up, but the message that, like a puppy, volunteering is not just for Christmas.
Of course, many charities rely on volunteers and some have a particular need to fill the gaps over Christmas, but many more say that they need help all year around. According to Volunteer Glasgow, practical things like background checks and training needs mean it is difficult to offer short-term seasonal volunteering opportunities.
That doesn't mean that there are no options. Volunteer Glasgow have made this really helpful list of charities that are looking for support over Christmas. And at Mind Waves we're always looking for Community Correspondents. We'd love to have your blogs about how you stay mentally well over Christmas.
But maybe the best idea is to take that Christmas spirit and keep on applying it in the new year. Our Community Correspondent Fuad Alakbarov suggested helping out at the Unity Centre, which relies on volunteers to provide practical support  asylum seekers and other migrants. You can find out more about volunteering with them here. 
So, of course, do something that makes a difference for Christmas. But don't forget about it when the tree comes down.