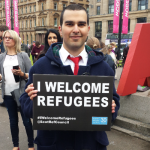 Where do you live?
I'm from Glasgow. In my opinion, best city in the world.
Where are you from?
I was born in Baku, Azerbaijan.
Why are you interested in mental wellbeing?
Mental health affects every family and I felt I should make an important step towards raising awareness about the importance of mental health. All of us can go through stress and depression; all of us can go through those experiences. For decades mental health service provision has lagged far behind the standards of care we take for granted when it comes to our physical health. It is vital that mental health is on everyone's agenda, recognising the impact that all areas of public policy can have on everyone's wellbeing.
What makes you angry?
War, poverty and social injustice makes me angry because we have been on the planet a long time and created such wonderful things that to resort to primitive combat and destroy all that civilisation has built up is unbearable.
What makes you feel good?
Helping people to change their lives towards well-being and away from problems makes me feel good. No one has ever become poor by helping and giving.