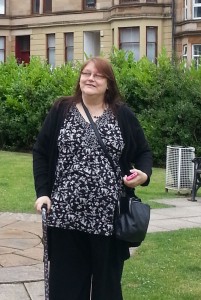 Community Correspondent Lorna Cosh explains how she has benefited from being involved with Mind Waves
When Rosie first told us about Mind Waves, I wondered what it was all about. I still couldn't stop thinking that someone was going to stick sensors on my head to measure my brainwaves!
But when the Community Correspondents get together, there is always so much going on. For instance, one week David talked to us about his art and how art has helped with his recovery.  And then there's John who likes to sing catchy sings like "When I was a lad".
There's Peter who always likes to bake two lovely cakes: a carrot cake (that's more like a dumpling) and a banana loaf. And at the end it's like  scramble at a wedding with everyone wanting some cake to take home.
One of the Correspondents is from Nigeria and she told us all about the food in her home country. She even cooked some jolof rice and fried plantain and brought it along for us. We like our food!
I get a lot out of going along to Mind Waves meetings. Not only is there great company, but it's a great opportunity to voice your opinion. When you experience mental health problems, it's easy to get caught up in negative thinking and dark thoughts.
Mind Waves puts the spotlights on the positive parts of our personalities and focuses on our strength.