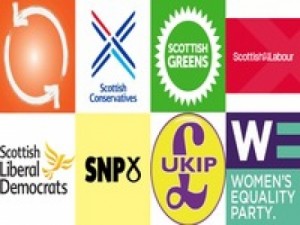 I don't know if it's because the weather has been so miserable (hail, in April?!)  but it feels as if May- and the election- has just crept up from nowhere.
Here we are, just one more sleep until we go to the polls for the Scottish parliamentary election. There's so much information to digest, on so many different topics. Luckily, our friends at the Health and Social Care Alliance have published a really helpful breakdown of what each party manifesto says they'll do on health and social care if they are elected. Of course, whether they'll actually do it is another question, but we can live in hope.
The Alliance breakdown analyses the commitments on the big issues that affect people living with long term conditions from each of the main parties. You can download the full document here or read their Policy Manager Andrew Strong's take on it here.
Here's the key manifesto commitments on mental health:
Scottish Conservatives
-Fight for equal consideration for mental and physical health across all health and social care sectors
-Fight for investment for a better understanding of the causes of mental health problems within mental health services
Scottish Labour
-10 year plan for improving mental health services
-A cabinet level responsibility for mental health
-Focus on the links between poverty, deprivation and mental ill health
-Invest in educational psychologists and community mental health professionals 
Scottish National Party
-10 year mental health plan
-Ensure mental health and physical health are treated with parity
-Recruit mental health link workers in GP practices
-Promote the benefits of physical activity on mental health
Scottish Liberal Democrats
-Amend law to put mental and physical health on same statutory footing
– 'Double support for services for young people'
– Create new units for children and adolescents in Aberdeen and Inverness
-Increase access to wider range of interventions, including talking therapies
-Training bursaries for nurses, counsellors and psychologists
-Every GP practice and A&E department to have mental health professionals
-Review of school counselling services and introduction of 'mental health champions' in every school
– Increased support for people in police custody and prison settings
– Explore establishment of 'Crisis Centres' (safe spaces for emergency support) and the 'Joint Cars' model
Scottish Greens
-Fight for equal consideration for mental and physical health across all health and social care sectors
-Fight for investment for a better understanding of the causes of mental health problems within mental health services
UK Independence Party
-Re-introduce the state enrolled nurse and fund return to practice training for those who have taken a career break.
-Address gap between nursing numbers and demand.
-Introduce long term planning and training projects for nurses and doctors by 2018
RISE
-Free parking facilities and improved transport infrastructure to and from all NHS services
-Project watchdog set up to monitor integration
-Investigating viability of a publicly-owned pharmaceutical company