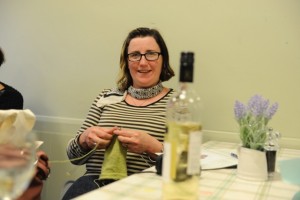 Our Correspondent @carriejwebb went along to #yarnfest2016 and spoke to people about how knitting helps mental wellbeing. Here's what they told her:
Julie Nelson Rhodes  @julietillyflop– Graphic Designer, Knitter and Crafter
"I was about 8 or 9 when we started learning to knit in school: it was something the girls did when the boys went to woodwork. I remember using this really awful rough, brown yarn. It was incredibly coarse and irritating on the fingers. At school I never really sped up and always seemed to make loads of stitches on each row. Now I get the right number of stitches.
It's the accessibility and creativity that attracts people to knitting. I think people are intimidated by the idea of being creative, there's a perception that creativity is restricted to drawing or painting and music. Knitters create something beautiful using two stitches and some glorified string. But it's more than that: sitting down to knit and create gives you time out from life. I'm a graphic designer and when I get stuck with something or can't think I pick up my knitting and whatever the problem is just seems to fix itself.
Ha! Sure, knitting can be relaxing if it's not a complicated project! It's the meditativeness offered by the rhythm and repetition of doing the same movements over and over again. You might be sitting anywhere: a cafe, bus, train and act removes you from your immediate environment."