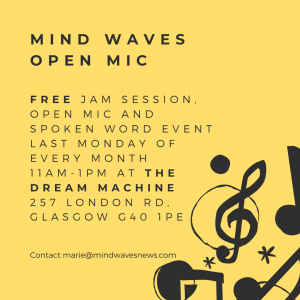 2023 so far has been full of creativity and connection here at Mind Waves!  Thanks to funding from GCVS and NHS Healthy Minds, we've delivered creative workshops and courses open to anyone in the Greater Glasgow and Clyde area.  
Our fantastic participants have collaborated on writing and performing their own songs, life writing, poetry, stories and even a podcast.  Of course, there are always plenty of cuppas, laughs, biscuits and a blether to fuel our creativity!
We couldn't have done this without our funders and The Dream Machine, an inclusive and inspirational community arts space in the East End of Glasgow with a mission to support people to "relax, play and create".  It has been extremely valuable to build connections with the wonderful staff and volunteers who always make us so welcome.
It is no surprise then that we are delighted to be a recipient of The Dream Machine's Betty McAllister Fund which gives us fully funded access to their community space for a new project.  Our participants asked for more informal group "jam sessions" and this opportunity is enabling us to make it happen!
The feedback we have received from our Mind Waves community is that most open mic and spoken word events tend to take place in the evening in licensed venues which can be a barrier.  Ours is an alcohol free event for those who would like to get out and about to do something during the day in an inclusive environment.  We especially welcome anyone with lived experience of mental ill health and those in the recovery community.
So why not join us for our new Mind Waves monthly open mic session?  We'll be meeting on the last Monday of every month, from August onwards.  Come along to share music and songs creative writing and stories (can be original or just share your favourites), join in a few sing-a-longs or simply come along to listen and have a chat.
Details of our first session:
Monday 28th August
11am-1pm
The Dream Machine, 257 London Road, Glasgow, G40 1PE
Refreshments provided
Mind Waves can also help with travel expenses or any other access requirements to support you to come along.
It's absolutely free to take part and there is no need to book, just come along! Participants are welcome to bring their own instruments too but we have keyboard, guitars, ukuleles and plenty of percussion available too.  Even if you have never sang or shared anything creative before, you can still come along and give it a go or just enjoy the atmosphere.
Rest assured you will receive a warm welcome and a fun, relaxing experience.  Here's what our Mind Waves community participant Angela had to say about our recent creative gatherings:
"The group is very accepting of everyone's difference, you can just be yourself. To come and do this makes you think more about who you are. It's completely non-judgemental, not many places in life are like that. Also it gets you to think about what you're good at and how you could explore that. I'd never have thought I would have done song-writing or poetry in my life. It took me out my comfort zone a wee bit."
We hope to see you on Monday 28th August!  Contact marie@mindwavesnews.com with any questions at all.