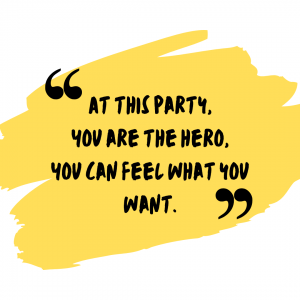 This week on the blog we're sharing a poem written by our Community Correspondent, Matt. This piece was written for a friend on his birthday, and is called Happy Birthday to Michael Williams. Matt was also kind enough to include the translation of this poem into Mandarin. His poem is below. 
Happy Birthday to Michael Williams
It's raining.
Look at him running
Here and there.
Here he comes,
bouncing, calling out and hugging those he greets.
The day is bright,
Yet he bursts into tears.
It's your birthday,
At this party,
You are the hero,
You can feel what you want.
Whatever comes or goes,
It's all for love.
祝Michael Williams生日快乐
雨在下,
他在跑,
忙前忙后。
他来了,
蹦蹦跳跳,
前呼后拥。
天晴了,
想哭了,
泪流满面。
你的生日,
这个聚会,
你是主角。
无论来,
还是走,
只为爱。
We'll be sharing lots of poems over the coming weeks, as our creative non-fiction and poetry workshop went ahead on Monday 17th July. It was a great session where we read poems, discussed the intersection of poetry and life writing, and had a great conversation led by a special guest. A recap of this session, as well as some of the responses to the writing prompt, will be live on the blog soon! 
We're having a great time running our series of summer workshops, funded by Healthy Minds anti-stigma fund. If you would like to learn more about the workshops, including information on how to sign up (it's not too late!) then click here.