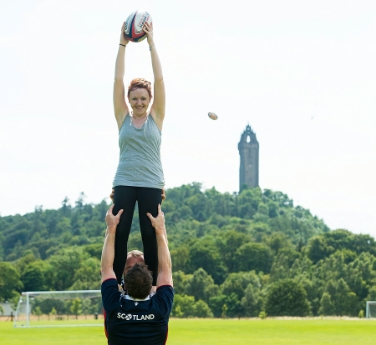 Where are you from? Where do you live?
I've always lived in the east end of Glasgow; currently in Riddrie, where the average age is pensionable.
Why are you interested in mental wellbeing?
Having suffered social anxiety for twenty years, I decided in 2012 to make it suffer me instead. At the time, I was basically a functioning recluse but started a blog and took on a challenge to try all 17 Commonwealth sports before Glasgow 2014. Since then, I've been using adventure to overcome anxiety every day, and trying to encourage others to talk about and tackle mental health issues in whatever way they can.
What makes you angry?
Nothing! I'm not exactly an angry person – my head is normally too busy worrying about making others angry. But I'm not a fan of bullies or ignorance or poorly-made tea.
What makes you feel good?
Talking to young people about anxiety and realising that they've glazed over because they can't relate and don't suffer it. And trees – I love trees.
What can we expect from your blogs?
Light-hearted, irreverent accounts of the ridiculous situations that social anxiety lands me in. And adventure – always adventure.
Paula's posts
Anxiety as an adventure: watch Paula at @TEDx
What happens when you're terrified to eat in public and the guy you like asks you out for lunch
You can keep up to date with Paula's adventures at her personal blog: