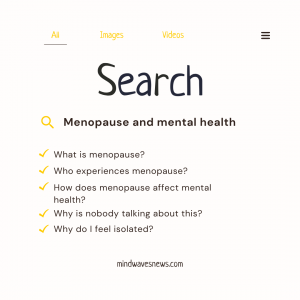 In the first episode of our podcast series on menopause, our podcast host Rosie spoke to Maureen about her experience of menopause and the effect it had on her mental health. 
This is a great episode and a really important listen. Maureen covers a lot of aspects of menopause, including managing symptoms at work, navigating dismissive comments from GPs and medical professionals, and lack of education around menopause. Maureen also discusses the ways in which going through menopause made her more understanding in her role as a nurse, and how she felt able to advocate for her patients undergoing similar issues.
There's some really good advice in this episode for those experiencing hot flashes or feelings of isolation due to menopause, and the conversation ends with Maureen encouraging listeners to think about alternative therapies to help manage symptoms, and to remember that menopause happens to anybody regardless of their situation, and that we shouldn't feel shameful about seeking help.
You can listen to the podcast on anchor by clicking here
We would love to hear from you if you have experienced menopause and want to share your experience of how it affected your mental health. We would particularly like to hear from you if you felt like your relationship with gender intersected with your experience of menopause or periods. Additionally, we would love to talk to you if you have experience of any medical conditions that have affected your mental health, for better or worse. Please get in touch by emailing maddy@mindwavesnews.com, or messaging us on Twitter @mindwaves1 or Instagram @mindwaves_scot