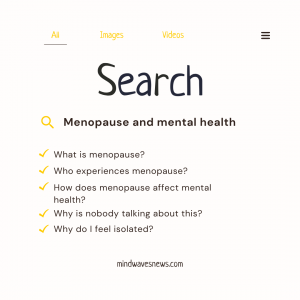 This week on the blog we're excited to be launching a new series that focuses on menopause and the ways it can affect your mental health. Over the next few weeks we'll be spotlighting three Mind Waves podcast episodes, hosted by our resident podcaster Rosie, and featuring three women talking about their experience with the menopause. But before we share the episodes here on the blog, we thought it was important to talk about why we've chosen the menopause and its connection to mental health as a topic to explore.
Experiences of mental ill health can often be caused or affected by other things going on in our lives, and the transition into menopause can often trigger a variety of mental health symptoms. In this series, we wanted to dig deeper into the experience of the menopause, and why it is a subject that we feel is underrepresented in society.
Menopause is the medical term for what happens when your body stops getting periods due to hormone changes. It often occurs naturally in people with uteruses who are between 45 and 55 years old, but can also happen earlier or later than this, and be triggered by certain medications or other medical reasons. Symptoms of menopause can include hot flashes, mood swings, vaginal dryness and night sweats. Perimenopause is the term used to identify the time from the start of menopausal symptoms until after you have experienced your last period. Periods will often start to become less frequent over a few months or years before they stop altogether. They might be more irregular and become heavier or lighter. For some people, they can stop suddenly.
Menopause doesn't only affect people who identify as women. Some transgender men, non-binary people, intersex people, or people with variations in sex characteristics experience menopause, and may suffer from additional societal issues during their transition into menopause, caused by gender dysphoria or lack of representation and visibility.
Any kind of change in hormones can affect your mental health and cause you to feel differently. Some common emotional changes that can accompany the menopause are anxiety, low mood, feelings of anger, low confidence or reduced self-esteem.
Menopause can feel like a big transition for a lot of people, and due to societal norms and a lack of representation and education, we at Mind Waves want to share stories of lived experience of menopause as an attempt to get people talking about their experience, begin to educate those who do not know about menopause, and show those who are experiencing hormonal changes that they are not alone.
Over the next few weeks, we'll be summarising the interviews here on the blog, sharing some animations about menopause, and thinking about why menopause is underrepresented and overlooked in our society. We're hoping to continue this series beyond the podcast episodes on menopause, and we're interested in talking about the way that mental health intersects with different conditions and experiences. Thank you for reading, and come back next week, where we will be spotlighting the first podcast interview with Maureen Gilmour, a long time community correspondent at Mind Waves. That's all from us for now!
We would love to hear from you if you have experienced menopause and want to share your experience of how it affected your mental health. We would particularly like to hear from you if you felt like your relationship with gender intersected with your experience of menopause or periods. Additionally, we would love to talk to you if you have experience of any medical conditions that have affected your mental health, for better or worse. Please get in touch by emailing maddy@mindwavesnews.com, or messaging us on Twitter @mindwaves1 or Instagram @mindwaves_scot