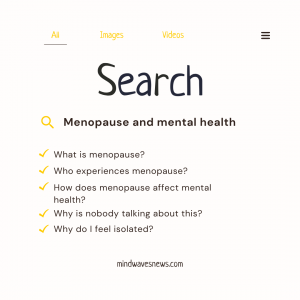 This week, we're sharing and summarising the final podcast episode in our series on menopause and mental health. Rosie speaks to author and researcher, Helen, about menopause, trauma and neurodiversity. 
This episode is a really interesting listen. Helen and Rosie touch on a lot of important subjects during their conversation, including but not limited to: aftercare after medical procedures, the ways that mental health can intersect with physical symptoms, shame and menopause,  and the importance of raising awareness around mental health and menopause without making people feel panicked.
Helen also names some useful resources that can provide information and support around menopause, such as: Rockmymenopause, Daisy Network and Menopause Cafe.
Listen to the episode with Helen by clicking here.
We would love to hear from you if you have experienced menopause and want to share your experience of how it affected your mental health. We would particularly like to hear from you if you felt like your relationship with gender intersected with your experience of menopause or periods. Additionally, we would love to talk to you if you have experience of any medical conditions that have affected your mental health, for better or worse. Please get in touch by emailing maddy@mindwavesnews.com, or messaging us on Twitter @mindwaves1 or Instagram @mindwaves_scot