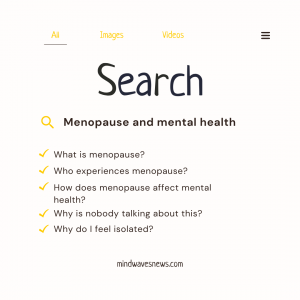 In the second episode of our podcast series on menopause, our podcast host Rosie speaks to Maddy about her experience of menopause and the effect it had on her mental health.
This episode explores the ways that menopause can affect younger people. Maddy talks about going through an induced temporary medical menopause at 22 as a treatment for endometriosis.
Rosie and Maddy talk about mental health struggles and feelings of flatness, reproductive illness and its relation to gender and the importance of sex education in schools covering menopause.
The conversation ends with Maddy suggesting that listeners experiencing menopause try to talk about it. Sharing our feelings and experience of menopause can help us to feel less alone, and also reduce stigma around the subject.
Click here to listen to the podcast.
We would love to hear from you if you have experienced menopause and want to share your experience of how it affected your mental health. We would particularly like to hear from you if you felt like your relationship with gender intersected with your experience of menopause or periods. Additionally, we would love to talk to you if you have experience of any medical conditions that have affected your mental health, for better or worse. Please get in touch by emailing maddy@mindwavesnews.com, or messaging us on Twitter @mindwaves1 or Instagram @mindwaves_scot