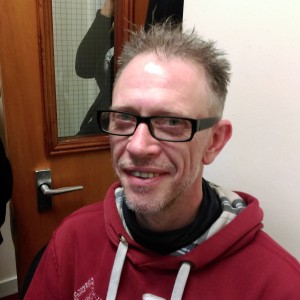 An interview with our Community Correspondent Robert Terry
Listen to the interview at #100faces here
As part of the @100facesvoices project, a group of our Community Correspondents interviewed each other to create audio stories about their lives. Robert chose to talk about caring for his mum, and how joining an extras agency has helped him deal with anxiety and depression.
"I'm Robert, I was 47 on my last birthday. I care for my mum, I'm my mum's primary carer. Unfortunately she's in hospital just now, so I've been doing a lot of running about. Today I took her up a telly, so the hospital will get it pat tested and she should be watching Coronation Street come tomorrow.
I used to spend just about every day with mum, but then she got a placement at the Oakburn Centre, so she's out of the house three days a week, which gives me a bit of freedom. She's 79, she'll be 80 in January.
I'm sitting her talking about caring for my mum as if I'm just an extension of her, which I certainly am not. I've developed come interests of my own, to help with my anxieties and dealing with crowd situations.
I joined a film and television extra agency back in 2003. I've been all sorts of people from doctors to plain clothes CID officers and uniformed officers… soldiers. I've played with Kalashnikovs, an AK47. I wasn't insured for the bullets, but was for the gun.
It took me out of the environment for a day or so and I could be a different person. In the beginning, it was really interesting as well to watch the cameramen and the soundmen, the engineers and the technicians, the behind the camera stuff.
Ennui: that's what somebody told me I had, ennui. It's like the blues, French for a state of depression. I think it's the general state of mind for just about everybody else on the planet. And they're trying to forget themselves and forget how scared they are, just to get to the end of that day."