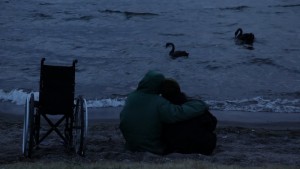 A review of @Declarationfest from @carriejwebb
Declaration was a Festival of Health and Human Rights. Film screenings, debates, performances and workshops were inspired by each article of the 1948 Universal Declaration of Human Rights.
Article 13 – Right to Freedom of Movement
"No one in the gutter ever hit me. The people who did me a dirty two or three times were all in suits."
I'm not going to lie. I bloody loved this movie and will now spend the next couple of paragraphs explaining why you see it. It's so incredible that you won't even mind the subtitles. 90 minutes truly well spent you guys.
Little World (2012) is a charming documentary following  20 year-old Albert and his girlfriend Anna as they travel from Barcelona to New Zealand with €20. Twenty. Euros. The couple and their hand-held camera brave trains, ferries, planes, trucks, illness and intense shamen on their journey. Albert is a wheelchair user.
On paper Albert's story is a sad one: he lost the use of his legs during chemotherapy treatment for childhood leukemia and his mum died when he was very small.  Without giving too much away he survived (was that obvious? Not a spoiler) and has a vital thirst for life and connecting with people.
Twenty Euros! About seventeen quid. I would easily spend that on a night out. Of course, the couple manage to travel so cheaply partly thanks to the generosity of  strangers and by being super sneaky travellers when it comes to circumventing transport ticket officers. Albert explains how he is able to use his wheelchair to his advantage: a well-timed tumble generally causes a fuss and results in officials helping him through the ticket barriers (sans ticket). It's absolute genius, if ethically dubious.
And for me that's the crux of it: how far does Albert use his physical disability to work the system? Is it right for him to do so? His dad has come to terms with Albert's physical disability and method of travel: "He spent his childhood in a hospital bed… I'm not going to stop him." And at another point  highlighted that his son doesn't take from people: he gives back to hosts and drivers in energy, love and life. You can see true  tenacity, charm and a genuine ability to connect with people coming across again and again. He and Anna are offered food, lodging and, in some cases, travel costs.
In no way is his story representative for the majority of wheelchair users. Very few would have the physical capacity, or the three months to journey through three continents. Little World celebrates an extraordinary individual's response to his physical health. The film-makers seem to be interested in celebrating Albert precisely because his is extraordinary. He overcomes the odds to adventure far and wide.