A group of people from Inverclyde have walked to the moon and now they are walking home.
Inverclyde Globetrotters is a group of people who come to a weekly fitness class as part of their recovery from major health problems.  They have been meeting for 4 years now.
At first they came to the class and worked in the gym to improve their cardiac health.   They got pedometers as a way of encouraging themselves to walk more as another way of keeping well.  But then they realised that if you add up all the steps you all take, you can walk a fair distance.
"You think you are just going to the shops and doing the housework.  But it all adds up.  Each week you want to go that bit further."
Where did the group want to walk to?  Around the world, of course.  And so Inverclyde Globetrotters was born.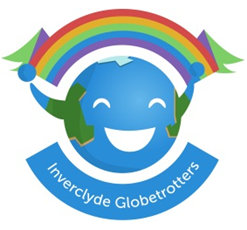 Since then they have walked round the world, gone to all the Parliaments and Assemblies in the UK, visited every capital city in Europe, walked along Route 66 and more.  At each step their mental wellbeing is growing too.
First, there is the fun of planning the route.  Each week they work out how far they have walked and where that would take them to – and check it out through the internet and learn more about new places.
They also write to people to tell them what they are doing, and some of them have written back.
"At the beginning we contacted Olympic rowing legends, Sir Steve Redgrave and Sir Matthew Pinsent, more in hope than expectation, to ask if they would be kind enough to send a few words of encouragement and they did!" 
"It feels pretty good when someone like that is telling you that you are doing a great job and wishes you luck."
Their latest trip is to the moon.  The group got in touch with the UK Space Agency and with Helen Sharman, who was the first British astronaut to go into space.  They have both sent the Globetrotters lots of encouragement.
Now Inverclyde Globetrotters have spoken at the Scottish Parliament and have given presentations at conferences. Their latest was this August at the World Congress on Active Ageing.
"We've made lots of friends along the way who have encouraged, supported and inspired us to keep going.  We didn't envisage that when we set off.  We certainly never expected to be at a World Conference.  We just went for a walk."
"We use every chance to tell people about Inverclyde as well as the walking and he benefits we all get.  We're proud of where we live."
Inverclyde Globetrotters have given advice and encouragement to other groups who want to try this sort of virtual walk while they go about their day-to-day lives.    The virtual walk bug is spreading.

Recently the WISHES Group from the Wider Opportunities for Older People in Inverclyde completed a 5,500 miles virtual walk round the USA to Graceland, Memphis, Tennessee and then celebrated their achievement with an Elvis Theme Night Party.
"We love it when other groups tell us where they are walking to and how far they've got.  It's also great when other people say they will give us the miles they are walking.  They don't want us to be stranded out in space for too long!  We can all swap photos and updates and encourage each other.  It is good to feel part of something."

If you want to find out more just get in touch.  You can reach the group on http://www.facebook.com/InverclydeGlobetrotters
"Please join in our conversation.  Walk with us.  We would enjoy your company and we could certainly use your fresh pairs of legs!"
And in case you are wondering, the round trip to the moon and back is nearly 480,000 miles which is around 1.1 billion steps.
Community Reporters Team