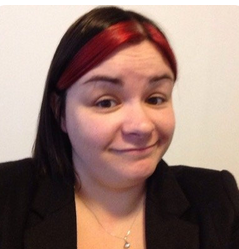 A post from our Community Correspondent Holly McCormack @hollz2012 , who edits Mental Matters magazine
I've been proud of many decisions that I've made in the last few years. It was important to me whilst at University to start doing something meaningful.
Not just standing at a Saturday afternoon press conference, speaking to yet another football manager. I'm proud of the hurdles I overcame working in football – as a female – but barriers may be broken, a little stigma remains but it became clear to me that their were bigger battles to fight.
Fighting stigma and discrimination became a key principle of mine. That stemmed from speaking up for individuals on social networks, working with anti-stigma organisations and then setting up my own magazine. Mental Matters has sat dormant for the past year whilst I etched out my final projects at University and took time out when I needed to look after my own mental health.
It's hard to discuss pride because as anyone in the West of Scotland will tell you – we don't make or take compliments very well. However, if I hadn't made my stance to tackle the stigma and discrimination that comes with experiencing mental health problems then I would never have found myself and ultimately my purpose. It even opened Mind Waves to me.
Had I not shifted my focus, then I doubt I would have won a Mind Media award in 2013 or ended up with a first class honours degree in Journalism. I don't mention these things to fill myself up with arrogance and self belief but because others and proud for what I stand for and hopeful for what I can achieve.
I'm proud to stand up for people. I'm proud to write articles, make videos or share stories in whatever way people feel comfortable. I'm proud that I've made a difference to people and I'm hopeful that I will again soon.
I'm also proud that I've been picked as one out of fifteen people worldwide to stand up for stigma in 2015 as part of the global alliance, and all being well will travel to America next month to take heed of advice, share my experiences and be mentored. In turn, I can put back everything I learn back into the community and share through my own mental health magazine – and that badly needs an airing again in the near future.