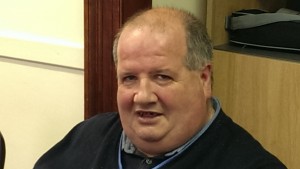 A post from Community Correspondent John Dane
Two years ago, I was very quiet and withdrawn and very much a loner. I would shut myself away from the outside world. At times I would not even answer my phone or door to any of my family, even though I was in.
I became a member of GAMH, and since then, I've been supported at my own pace. They have supported me to access counselling and encouraged me to come out of my shell and participate  in the various activities they have to offer, but always at my pace.
This has made a tremendous difference to my quality of life and over the last year I have become more and more involved in new activities and projects, and I'm a Mind Waves Community Correspondent.
I am now at a stage where I feel confident enough that I can get up in a room full of strangers and talk about various topics. GAMH are now supporting me to apply for an Open University course which starts in February .  I'm hoping it will gain me access to a degree course in business studies and accounts which will start in September.
I think of myself of a snail and if I was to lose this support from passionate and committed staff, I would find myself withdrawing back into my shell and once again shutting myself away from the outside world.