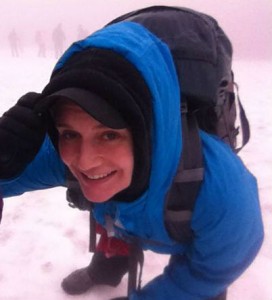 A post from our Community Correspondent Emily McCurrie
I really really love the festive season. I love all the fairy lights and I love getting wrapped up and walking around in the cold. Then coming inside to where it's warm and snuggling up to a Christmas movie. Usually Bridget Jones followed by Love Actually (the British do it best!).  However, if I'm going through a bad patch, especially if experiencing depression or anxiety, I find the festive season completely excruciating! Like there's a pressure around you to be 'jolly' but it only amplifies how awful I'm feeling.
Parties can really lift your spirits, bring company when you're feeling lonely and can be great to have a wee boogie and a laugh! However, if you're in a vulnerable place they can also be risky if there's alcohol involved or you're spending time with people that don't positively impact on your mental wellbeing. It helps to go to parties where you know people will be welcoming, caring and supportive and happy to respect your decision to not have a drink – and should also have a great taste in music!
Instead of a big night out  I love going to the outdoor ice rink at George square in winter time. Just something about it makes me feel like I'm in another country – lovely bit of escapism! Until you fall flat on your backside and it brings you back down to earth that British people aren't made for ice skating.
One thing that helps me take the focus off how I'm feeling is to help out in my community. The places where I work are collecting for food banks at this time year and I think it's a fab idea.
At Christmas I'm going home to Manchester to visit my family but me and my older sister, Bernadette, are volunteering at a local homeless shelter on the morning of Christmas day. We did this a few years ago and helped to hand out meals and sit and chat with people. It was hugely rewarding and I'm looking forward to doing it again.
What about you? What helps you survive the festive season? Let us know or submit your story