As part of our place theme, Project Manager Kenny from Carr Gomm's Rosebank Gardens explains how place is important to a wide mix of community groups.

In Rosebank we have 38 large plots these are shared between Carr Gomm Rosebank Garden project and community plot holders, the site is set in view of the beautiful Campsie Hills.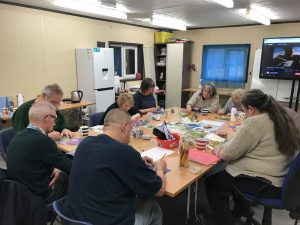 The project delivers a wide range of activities these range from Art Groups to Cooking groups mainly during the winter. The project changes when the sunshine appears around February/March and we get working outside on the allotment.
We find that Rehabilitative Horticulture, horticultural therapy involves the practice of growing and caring for Allotments and plants specifically for therapeutic purposes.  The power of nature in helping people recover and heal from a vast range of ailments has been known for thousands of years. The allotment helps alleviate mental health problems and is a great resource for those in recovery.  Spending time in such a tranquil, beautiful setting help reduce symptoms of depression, anxiety, and other disorders.
At Rosebank horticultural therapy is a client-centered approach that's designed to meet the specific needs of clients and patient's needs , whatever those may be.   It's used to help individuals recover from illness, rehabilitate from an addiction, reduce psychiatric symptoms, improve social skills, and strengthen declining cognitive abilities.  It's also used to simply improve people's overall health and sense of wellbeing.
Horticultural therapy is offered in a group setting or one to one setting depending on the needs of the individual to help them set and reach their support goals. Although programs may be tailored to the unique needs of the individual, primary therapeutic tasks include growing and caring for flowers, vegetable- and fruit-bearing plants, and other types of plants.  This puts the individual in a caregiver role, which can be highly empowering and therapeutic in and of itself in a variety of ways.  The Allotment gives individuals a sense of connection to others while helping them develop or improve their communication and social skills.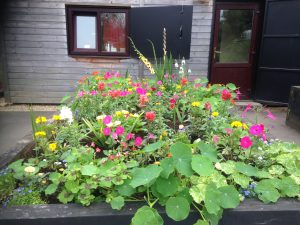 Looking after plants has multiple physical, psychological, social, and even spiritual benefits, which is one of the reasons why horticultural therapy has such a broad reach in terms of who it can help.  The popularity of horticultural therapy has been growing in recent years, a large percentage of the population currently lives most or all of their lives in urban settings where concrete and pavement have replaced far too many trees and plants.  Horticultural therapy helps people get back to their collective, primal roots Rosebank gardens benefit individuals by giving them the opportunity to engage with nature, either actively or passively depending on various factors, in a way that promotes recovery and healing and enables the project to utilise horticulture as a tool that supports people.