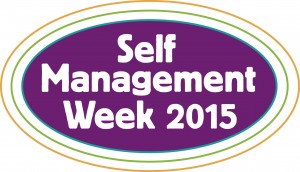 The sixth Self Management Week is fast approaching, running between 28th September and 2nd October 2015.
If you are considering hosting any kind of event to celebrate, promote and champion self management but need a bit of inspiration or support to promote, join our friends at @selfmgmtscot at one of our Inspiring Each Other: Self Management Week Planning Sessions, taking place:
Tuesday 28th July 2015
10am – 12.30pm followed by lunch until 1.30pm
The Gateway, North Methven Street, Perth PH1 5PP
OR
Thursday 6th August 2015
Refreshments at 5.30pm, session from 6.00pm – 8.30pm
Venlaw Building, 349 Bath Street, Glasgow G2 4AA
So how will we inspire you?
Hear about a variety of different types of event you could host.
Be inspired and get some practical hints to help you plan.
Learn how the Self Management Partnership and Practice team and the ALLIANCE can support you to deliver your event.
Get your next steps in order and off to a flying start with your event planning.
Identify any partnership opportunities with other organisations hosting events during Self Management Week 2015.
With a mix of group discussion, practical tips and the chance to partner up with other organisations, we're really trying to take advantage of many heads being better than one. This event is open to anyone who is considering hosting any kind of event during Self Management Week 2015 or even if you are just interested in finding out what everyone else is up to and how you can get involved.
There is no cost to attend this session. You can download the flyer here.
To register, or if you have any questions, please contact Lara Murray with your name, e-mail address, role, organisation and any dietary or access requirements.
E-mail: Lara.Murray@alliance-scotland.org.uk
Mobile: 07701 289 590
Telephone: 0141 404 0231