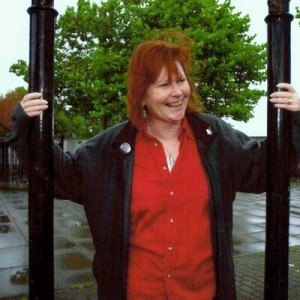 A day in the life of Pru – our Community Correspondent @daviespru
Every day starts and ends with pain.  This is physical pain from chronic osteoarthritis particularly in the knees and ankles although I am affected in all my joints.  I take daily doses of Co-Dydramol, Naproxen and Paracetamol and Dihydrocodeine to get me through the day.  This means I am slower, mobility wise, but still sharp as a button mentally.  There lies the rub.  I cannot rush around as much as I used to and do get frustrated by that.  Pain is so emotionally tiring, I think.
Help is at hand, however, as my husband now does all the food shopping so I don't have to struggle around supermarkets anymore.
I am still passionate about my work raising awareness of mental health issues, speaking out about my own diagnosis of Bipolar and playing an active part at a strategic level in the hope that, with other like-minded souls, I can make a difference to the stigma  and isolation felt by people in the same boat.  www.seemescotland.org
Oh that leads me nicely into my life back in the day before chronic pain and madness: my teenage years and early 20s.  I loved sailing on The Solent starting in dinghies before progressing to larger yachts racing in Cowes Week and working at various companies along the south coast of England.  I loved many sporting activities, from tennis, badminton, squash, athletics, dancing (who's asking!) and had a varied and hectic social life.
Life was good or so it seemed.   Amazing how outwardly things can all seem to be plain-sailing – excuse the pun, but inside there was someone who desperately wanted to settle down, find true love.
True love did come along but in a surprising way.  It took my first hospital admission to meet that someone and the rest as they say is history. I spent the next twelve years in and out of psychiatric institutions on a fairly regular basis.
So to return to my heading of this piece of prose:  I have been lucky in many ways, no two days are the same, but my moods swing like a pendulum particularly when pain is involved.  It's easy for doctors to say lose weight you will feel so much better, to which my reply is don't state the bl**ding obvious.
When you take the kind of medication that I have to take to keep the Bipolar in check as well as treat an underactive thyroid, blood pressure issues, pain relief that I find so debilitating, it is easy to say to myself just go online and buy those "miraculous" weight loss tablets, or when I am really depressed thinking I can't go on.
My faith has also been of great help www.ibroxparishchurch.org. When feeling like this,I self-referred to Lifelink and was really impressed by my one hour with a Counsellor. It was difficult talking about myself but at the end of the session I felt quite cathartic. I had offloaded stuff and felt better able to do something about the things that were bothering me.  I would definitely recommend getting in touch with them when the going gets tough www.lifelink.org.uk
I suppose to sum up "A Day in My Life" – well no two days are the same. I usually visit the Mental Health Network Greater Glasgow www.mhngg.org.uk once a week as I am Editor of Network News, their quarterly newsletter.  As a Lay Member of the NHSGGC ADTC Polypharmacy Prescribing Committee I meet regularly to talk about Mindful Prescribing of Medicines. The Conversations Model that the Network have been using both in the psychiatric wards and in the resource centres have played an important part feeding back the concerns of service users and carers about medication in general especially harmful side effects that so often come up as an issue.  As a Charity Director of Bipolar Scotland and as an Advisory Panel Member of seeme ScotlandI like to continue to raise awareness of good practice and hold those responsible for decision making to account for their actions.
My husband, family, friends and Mischa (the fur baby) are my Lifeline.  Everyone needs someone who they can count on.
Pru Davies
Find me on LinkedIn, Facebook & Twitter @DaviesPru