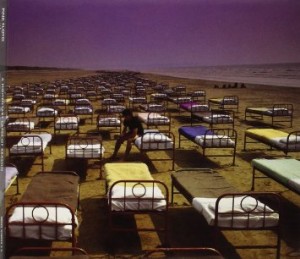 A post from our Community Correspondent Robert Terry
Let me paraphrase:
Everyday I can be anything I want, anyone I want to be and everyday is the first day of the perfect job, I dreamt of yesterday until that is. . . Covers pulled back I'm dressed my feet firmly on the floor and out of bed I'm plain-old Sid Barret again, for evermore.
Sid Barret, the lyrical, musical and creative genius guiding the equally creative genius of Roger Waters drive Pink Floyd's first incarnation.  In the album Relics, the implicit theme of bed as a safe beyond reach place for dreams and dreaming, is repeated several times.
Then there's Pink Floyd's come-back album from the latter half of the 1980's, "A Momentary Lapse of Reason." Set on a beach, the album cover shows orderly lines of hospital beds stretching into the distance.
This was nother nod to Sid Barret's mental frailties and for that time a shameful and embarrassing diagnosis of schizophrenia. I have never been assigned the title of schizophrenia, but I do struggle with anxieties, self-doubt, arrested developments, emotional and psychological. When the world's white noise becomes too much, like an adolescent, the only place I want to be, is in my bed.
Remembering my middling teenage ife, I now get why Pink Floyd deeply touched, my bed-loving heart. Bed was a place where a person could and should feel safe from the world. Bed was a place where diurnal and nocturnal dreams were as real as the air you breathe and accidental meditations occasionally allow a feeling of internal movement, yourself moving freely within an ever expanding imagination and mind.
Then there was "The Wall". Here is the warmth, comfort and company, safety a bed can offer a soul battered by and in need of escape from, a world outside your home.
Just to close my imaginary circle, after all the courtroom drama of the legendary band's disintegration, Roger Waters was once again, creatively free and after eight or so years without releasing an album, Waters teamed up with "The Atom Heart Mother's Band."
"The Pro's & Con's of Hitch-Hiking," saw Roger Waters' protagonist's moving from Motel to Trailer-Park, then from Hotel to Camper Van where a constant existed at the implied centre of their on the move, moving and crumbling relationship and world.
The implicit constant in " The Pro's 'n' Con's of Hitch-Hiking," was the bed the coupled shared each night. Perhaps not the same bed each night but when trying to save their relationship they realised it doesn't matter where the bed is or even what materials the bed is constructed from (1980's remember) it's the trust in each other each takes to the place they call bed, giving each other comfort and security required, for a good night's sleep.