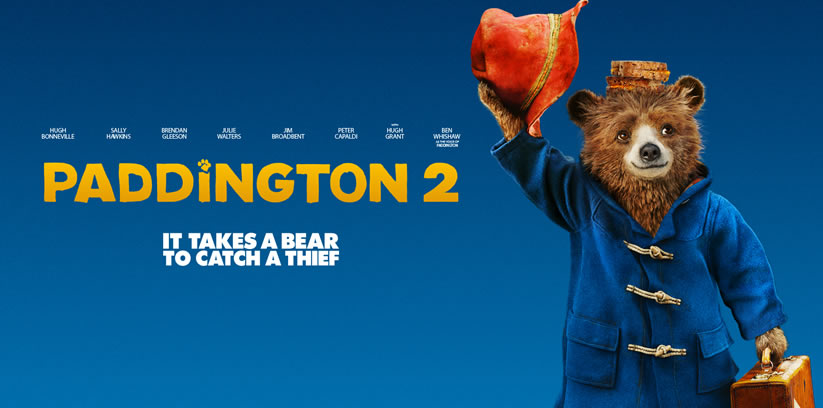 (Image used under fair use)
Below is a review of Paddington 2 from community correspondent, Elizabeth Cassidy. **Warning, there be spoilers!**
Paddington is a CGI bear, but everything I felt watching the film was so real.  My feelings were so up and down.
 Paddington bear almost drowned which made me sad, but I was  glad because of love he had for the older bear Aunt Lucy-  and that his friend saved him from drowning .
 Aunt Lucy always had the ambition to go to see London. Paddington tried to get a pop up book for Aunt Lucy to look at as it showed London, but it was very expensive. So, Paddington got a job  for the first time to help pay  for it. His first job was working in a barbers which made me laugh so much because he gave a bad haircut. It turned out that his first customer was a judge, the one who ended up later sending  Paddington to jail –  ha ha.
 He did another job washing windows – I laughed so much because he pulled a set of ladders from his brief case ha ha. He did manage to save  up his cash for the pop up book for Aunt Lucy, but a man came and stole the book and the bear got the blame. There was a court case  and Paddington got jailed.
 It was sad because he wanted the book as well – what a shame.  The bear was  sad and alone.  When it came to breakfast on his first morning from in jail, the kitchen staff  made porridge  for all the prisoners to eat but no one liked the porridge.
So after Breakfast his first job to do in prison was laundry work. All the clothes that the prisoners wore were all the same and a red sock got caught in the washing machine and turned all the clothes  pink -ha ha funny.
The cook got angry because the porridge was rotten then Paddington had a stash from somewhere with a sandwich with marmalade. The cook tried it and liked it  and asked the bear can he show him how to make it.  Paddington liked marmalade and knew how to make it too.
The prisoners loved the marmalade and before you know it the dining room was  like a cafe with all the prisoners in their pink clothes.  Funny, I say.
The Brown family worked to get the bear free from jail and finally did after he tried to escape.  So Paddington  got out of jail and guess what,  Aunt Lucy came to London to see the bear. Happy ever after, Lucy did go to see London after all.