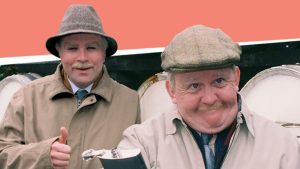 A post from our Community Correspondent Robert Terry
As a Christmas present for my  brother and an 81st Birthday present for my mum, I bought us tickets for Still Game at the Hydro.
As always, we were running late.  I'd done my best in rushing my mum out the door, but she has dementia and a lot of kit to carry, so it can be a struggle. I knew I'd forgotten something, but we were excited and we were in a hurry.
Amazingly, despite missing a turn and struggling to find a parking space, we  made it with time to spare.  We were seated on the second level in the disabled area. I never had to ask if they were enjoying the show, they kept telling me and it was obvious by their laughter. It was really lovely to have a night out laughing together. Men's T-shirts sold out, so I got two tea towels and a mug.
Leaving went remarkably smoothly: within  two minutes we were on the expressway and we made it home for 11.00pm. About ten past the door went and torchlight flashed across the door. Uh oh – the police were at the door wanting entry. Mum was in the toilet and my boots were still in the middle of the floor.
I knew I'd forgotten something. I hadn't informed the care at home people and, when they were unable to get entry, they phoned the police. They took my details  waited for mum coming down stairs and spoke to her before they had a wee look around and headed off.
It was surreal, but I get it. They need to make sure people are safe.
It's just that, it makes you realise that, when you're disabled or caring for someone, there's not much room for spontaneity. The way that so many services are structured really does curtail your social life.