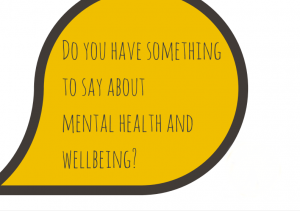 Info event:  Friday June 6, 11am- 1pm,
GAMH Turnbull Street, Glasgow
What makes you feel good? Whether it's a favourite walk, your gardening group or just a book that never fails to cheer you up, we want to know about it.
We want to support individuals and organisations to tell the world about the things that improve their mental wellbeing. We can provide free training and mentoring on a range of subjects including:
blogging
video and audio
social media
We will support you to tell your stories and get your message out. All we ask in return is that you share what you produce with us and allow us to publish the highlights.
If you, or the people you support,  live in Greater Glasgow and Clyde and you're interested in getting involved, please come along to GAMH, Turnbull Street on Friday June 6 at 11am to have some lunch and hear more.
Tweet us on @mindwaves1 , contact us or call GAMH on 0141 552 4934 to let us know you're coming.
If you can't make it along, please get in touch anyway and we can talk about how you can get involved.