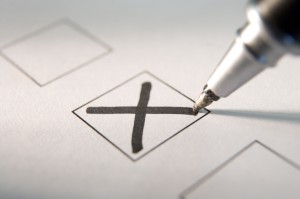 A guest post from Andrew Strong, Policy and Information Manager at the Health and Social Care Alliance @ALLIANCEScot
My role at the Health and Social Care Alliance Scotland (the ALLIANCE) involves discussing and briefing politicians from all of the main political parties on the issues affecting the lives of disabled people and people who live with long term conditions.
Ahead of the upcoming General Election on 7 May, the ALLIANCE published our own manifesto, setting out what we want to see our elected representatives do after they get into office.
Reading party manifestos can be complicated, confusing and leave us all scratching our heads.  Part of my job is to unpick what each party wants to do and let our members know about it.
Below are the party's stated positions in relation to mental health.  This summary is only intended to show the main points of each manifesto in relation to mental health.  For more information please refer directly to each party's manifesto using the links below.
Scottish Conservative and Unionist Party:
"We have pioneered the use of social impact bonds and payment-by-results, and we will look to scale these up in the future, focusing on youth unemployment, mental health and homelessness.
We will also provide significant new support for mental health, benefiting thousands of people claiming out-of-work benefits or being supported by Fit for Work."
Scottish Greens:
"To tackle Scotland's pockets of poor health means ending poverty in those communities. NHS research shows the Living Wage is one of the most effective ways to reduce inequalities and improve both physical and mental health.Healthcare is devolved to the Scottish Parliament but we will support UK-wide actions to tackle poverty and inequality – such as the £10 minimum wage, a wealth tax on the richest 1%, affordable housing and a fairer social security system."
We will make sure that local authorities, the NHS and schools do more to work together and help some of the most vulnerable children in Scotland. To ensure that the Mental Health Fund is targeted where it's needed             most we will consult with the Scottish Association for Mental Health, and seek views from other stakeholders to support those experiencing mental health issues in Scotland."
 Scottish Liberal Democrats:
"We will expand the provision of psychological treatments, such as talking therapies.
We will develop new provision to support young people who need urgent mental health support. Too often young people are taken long distances to unsuitable secure units when more effective and more local care                should be available.
We will follow closely the pilot projects to have trained mental health professionals in A&E departments with a view to rolling these out to every Scottish department."
Scottish National Party:
 "We will demand an urgent review of the conditionality and sanctions regime… The review will take particular account of the needs of people with mental health issues.
We've already committed £15 million to a mental health innovation fund and, as part of our proposals for higher health spending, will seek to increase this investment to £100 million over the next 5 years.                                 Resources will be directed towards projects that will improve mental health treatments in the primary care sector. The fund will also enable further investment in child and adolescent mental health services."
You can find out more about the ALLIANCE at: http://www.alliance-scotland.org.uk/
The full manifestos are available online now:
Scottish Conservative and Unionist Party manifesto 2015
Scottish Greens manifesto 2015
Scottish Labour manifesto 2015
Scottish Liberal Democrats manifesto 2015
Scottish National Party manifesto 2015