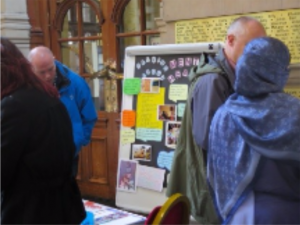 A post from Farrukh, who is a Co-Trainer with the GAMH Talking Mental Health project
I became a Co-trainer with GAMH's Talking about Mental Health project two years ago in 2013.
The project involves people from black minority ethnic communities in designing and delivering mental health awareness workshops to help reduce stigma and build confidence
in mental health issues.
Before this, when someone said the word 'health' I thought of physical health. In reality we all have a physical and mental health, and each is as important as the other and directly
affects the other. We should be able to talk about mental health just like physical health. I got involved when I heard about a mental health information session taking place. It
sounded interesting and I went along but I was unaware of the journey that was to unfold ahead of me.
I then undertook GAMH's training for trainers course which gave me a completely new perspective on mental health and recovery. You know a lot already but it is scattered in your mind and the training puts all the pieces together into a whole picture. I gained a new awareness and confidence that allowed me to speak about this taboo topic much more openly.
Learning about mental health and recovery has made it easier to understand other people's experiences and has answered many questions and missing puzzle pieces in my own life. I also learned about mindfulness, have confidence speaking to large crowds, designed literature to share information about rights, and I've written about positive mental health online.
Unfortunately there is still stigma attached to mental health but by talking about it and sharing experiences in our workshops we can help remove this. I got rid of the stigma and you can too. Instead of mental health being a barrier, we can use our knowledge and awareness to help those around us and our own selves to become healthier communities both physically and mentally.
Read more and download the Talking Mental Health "Top tips for talking to your GP about mental health"