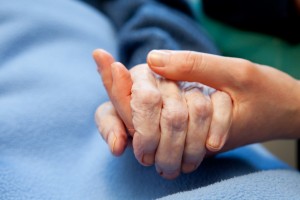 There's a popular myth, in every public service from nurseries to psychiatric hospitals, that it's against the rules for staff to hug the people they support.
It's one of those things that makes for a good story, but this excellent piece from Anna Fowlie of the Scottish Social Service Council dispels it. Of course, touching must be appropriate, but there's nothing in the rules to say that a hug is off limits. In fact, in some situations, it's hard to see how anything but  a cuddle could meet the need.
When you're feeling scared and alone, even just the touch of a hand can make all the difference. We can formalise it by including opportunities for hand massage, or introducing pet therapy so we can at east have a cuddle from a bunny, but surely just making sure staff understand that they can follow that most human of instincts would be a good start.
Fowlie mentions the fact that the perpetuation of the myth leads to some staff self-policing and avoiding contact, just to be on  the safe side. There's no doubt that it happens, but there are some really excellent staff out there who make a real effort to make every-day affection part of their work. It's only when you read a piece like this that you realise how brave they are to do it.
Of course, there's no space on a staff appraisal form to ask how many hugs they give, or to measure the effectiveness of their hand touches.  But that doesn't mean it's not important.
What about you? Has there been a time when a well-timed cuddle made all the difference?