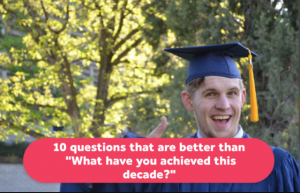 Apparently, there's only about a month left of this decade. We don't even know what to call it. The teens? The teenies? Who knows?
Anyway, as is often the way with social media, a bunch of people have taken to twitter to talk about what they've achieved this decade. Some people have shared a list of their accomplishments (babies, jobs, books published… it goes on) and of course others have rushed in for a spot of one-upmanship.
You've only published one book this decade? I've done four. And been named the professor of blah blah blah."
In true twitter style, it's been turned into memes and semi-serious nihilistic posts about what people have failed to do, which seems a little cynical.
At Mind Waves, we're big believers in the power of social media to make life better. We want to celebrate what people have achieved, even if it's just getting out of bed, or just keeping breathing. It's not that we don't care about what people have achieved – it's just that we think it's the wrong question. After all, listing your achievements tells us nothing about how happy you were or the challenges you've overcome.
Our Community Correspondents have come up with a list of questions that tell us much more about what's happened this decade.  So here's our list:
How are you?
How have you changed in the last decade? What have you learned?
What have been your highlights and lowlights?
Who have you connected with this decade? Who have you forgiven?
What have you decided to stop doing?
What are you grateful for?
What have you come to terms with in the last decade?
What have you done that makes you happy?
What are your plans for the next decade?
And the big one…
11. Are you still alive?
Because when we reflected, we realised that we'd all been lucky to get through the last ten years. We're still alive. That's an achievement in itself.
We discussed  these questions in more depth and some of our Community Correspondents will be sharing their take on them in the next couple of weeks. We'd love to hear your answers to one or all of them.