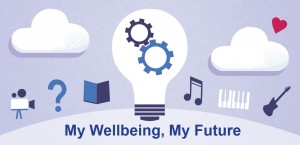 If there's one thing that we've learned over the years at Mind Waves, it's that we all need different things to be mentally well.
And if there's two things we've learned, the other is that being creative can make a big difference for a lot of people.
So, we are interested to see that our friends at the Health and Social Care Academy are combining the two to run a creative competition called "My Wellbeing, My Future". They are looking for people to find a creative way to express an answer to these questions:
What keeps you healthy, well and happy?
What is needed to help you live well in the future?
It's not just about mental wellbeing, it could also be about what makes your physical health better.  We've seen so many great creative examples at Mind Waves, we're quite sure that our community will contribute something special.  You can say it in all sorts of ways, including:
Poetry
Arts and Crafts
Short stories
Photography
Short films
Music
And even better,  if your entry is selected, you could be in line for some pretty impressive prizes. Apart from the glory of being featured in their publications and c ontributing to the Scottish Government's long-term vision for health and social care, you could also get your hands on concert tickets, Hard Rock Cafe gig tickets and book vouchers.
They're looking for entries by July 17, so what are you waiting for.  To find out more about how to enter, visit the Health and Social Care Academy website or phone Marianne on 0141 404 0231.