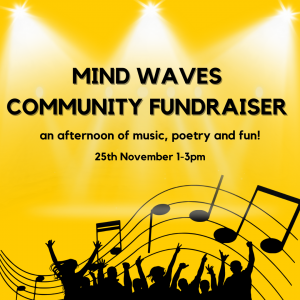 ***THIS EVENT IS NOW POSTPONED UNTIL 2024! MORE DETAILS COMING SOON***
Hello everyone! We're really excited to announce that we're putting on a Mind Waves Community Fundraiser on the 25th November 1-3pm. We're holding the fundraiser at The Dream Machine (the best venue in Glasgow if you ask us!!) and we're so excited to finally get to host a live music event with them.
We'll have musical acts, spoken word performances, a raffle, and a fully stocked selection of homemade cakes. The Dream Machine also has a 'Dream Room', a relaxing sensory space that you're welcome to hang out in if you fancy a quiet chat or a break from the music.
Click here to have a look at the eventbrite page and buy a ticket. We're asking for a suggested donation of £6, but also using a 'Pay What's Ok' system. If you want to come along for less, or support us with a larger donation – that's ok with us! There will also be baked goods and raffle tickets available to purchase at the event, so bring cash if you can!
All of the proceeds raised from the event will go towards the costs of running our local mental health and wellbeing groups and the creative activities we offer our community. We would really love to see you there 🙂