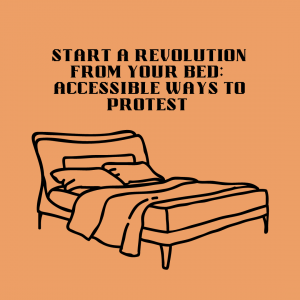 Protesting is a human right. Peaceful protests are so important, and one of many ways to work together for a better world that is free from inequalities. However, in-person protests can often be inaccessible for those who deal with mental and physical ill health. This week on the blog, we'll be sharing some ways to join in with protesting in an accessible way.
Protesting
Share information on social media but make sure that you never share links to anything that you haven't read first. It is also important to ensure that the source of the information that you are sharing is reliable and truthful. Misinformation can be incredibly harmful. Online activism can be seen as performative, but that isn't always the case. For many, online resistance can be the only way to show support to various causes, and, when done correctly, social media activism can be useful and important.
Amplify the voices of the people who know what they're talking about. If you are not personally affected by the cause you are protesting for, or an expert in the subject at hand, amplify the voices of those who are. Think of yourself as a conduit for information to spread.
Share petitions after you sign them
Get in touch with your representatives: email your local MP and ask them what they're doing for the cause. Make sure not to use templates (or adapt them if you do) because you're less likely to get a considered response.
Have uncomfortable conversations offline. The best way to change minds is to have clear headed and civil conversations. Give someone a ring and ask them if they're interested in hearing about the cause.
Donate if you can. Many people are not in a financial position to donate to causes they support – which is okay, and not something that anyone should feel guilty about. If you are in a position to support causes financially, there's lots of ways to make donating a part of your life. Make coffee at home everyday for a month, and then donate the money you've saved. Swap your weekly takeaway for a 'fakeaway', and donate those pennies! If you are unable to donate money, think about donating your time. Think about a task that is manageable for you and get in touch with your local community organisations. Could you make a nourishing meal for someone who needs it? Knit a hat or lead a zoom workshop in internet skills? There are a lot of ways to utilise skills that you already have for good causes. Get creative!
Before we go… Please buy a ticket for our community fundraiser on Saturday 25th November at 1pm! The event will be held at The Dream Machine Glasgow, and we're asking for a suggested donation of £6. (but also following a pay what's ok plan!) There'll be music, poetry, raffle prizes and cake, and all of the proceeds will go towards keeping Mind Waves going. Click here to see the eventbrite and buy a ticket. 
We really appreciate your ongoing support 🙂