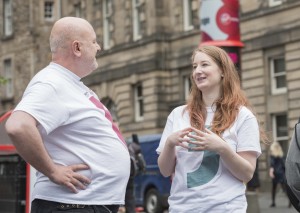 A few years ago, Chris McCullough Young @walkamileuk heard that 90% of people would never knowingly invite a person with mental health problems into their home.
Well, since then, he's walked around the edge of Scotland to highlight the stigma of mental ill health and he's developed a much more optimistic picture. When he talks openly to people about his borderline personality disorder, he's been welcomed into their homes and offered food. He's now teamed up with @SeeMeScotland to ask other people to get together to walk just one mile, down Edinburgh's Royal Mile, to tackle mental health stigma.
They want to bring together people with lived experience, carers, professionals and anyone else to walk a mile in each other's shoes at 6pm on September 3.
If you'd like to get involved, visit letswalkamile.org to sign up.
Our Community Correspondent Holly McCormack @hollz2012 caught up with Chris when she was volunteering as a social reporter at #rightsforlife in June. You can listen to their conversation about mental health stigma and what Chris has learned here.