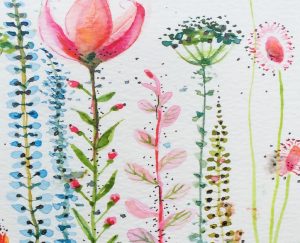 This September, on a rainy Thursday afternoon Mind Waves headed along to the GAMH run Art of Recovery event at Bellahouston Park. The event was a celebration of the many ways in which art can aid mental wellbeing.
There has been growing interest in the role art can play in recovery and diagnosis of mental health issue. In recent months we have shown how artists have used comics to try and explain what they cannot easily put into words. Some people aren't good at talking about their feelings, and often emotions and feelings we experience in mental illness are difficult to explain. As the American artist Edward Hopper once said "if I could say it in words there would be no reason to paint".
Painting isn't the only form of artistic expression, and simply conveying our feelings through a brush isn't  where art therapy begins and ends. At Art of Recovery I met actors, musicians, gardeners, woodworkers, writers and poets, who all used art in different ways to help with mental recovery. Art brings people together as a shared experience and offers a sense of inclusion to folk who might suffer isolation because of their illness. It can give an enormous boost to confidence and self esteem.
I was lucky to speak to artists and organisers of the event about what art and recovery means to them. Over the next couple of weeks I'll be sharing interviews from the day.