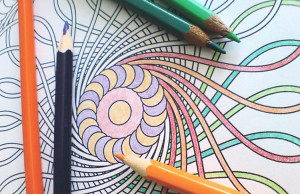 A post from our Community Correspondent Fuad Alakbarov   @DrAlakbarov
There are a lot of misconceptions floating around about art.
Some think you have to be creating paintings or sculptures to be considered a real artist, while others believe that you are either born with talent — or not. Many are afraid that since they aren't very good at something, there is no point and they won't get any benefit from doing it.
But we are all born with an inborn desire to express ourselves and art embraces a wider range of activities than you may have ever imagined.
Activities like painting, sculpting, drawing, and photography are soothing and rewarding hobbies that can reduce your stress levels and leave you feeling mentally vibrant and peaceful. 
Creating art provides a diversion, giving your brain a break from your usual thoughts. According to one study , the average person has 60,000 thoughts per day and 95% of them are exactly the same day in, day out!
A popular art trend for stress relief is adult coloring books. This idea was first promoted in France, a country that's number one in per capita consumption of antidepressants and sleeping pills.
In addition, art improves problem-solving skills. In contrast to math, there is no one correct answer in art. Out-of-the-box thinking also encourages your brain to grow new neurons.
Creating art isn't just for those born with talent or for those in a position to work with a therapist. Art is for everybody!
Within each of us lies a spark of creativity. Now that you know all the benefits artistic quests can provide, I hope you won't put off exploring your artistic side any longer.