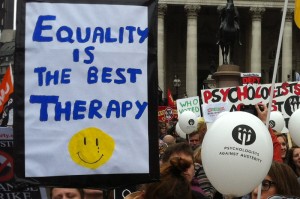 We are so excited about Declaration: an arts festival that focuses on human rights and health.
From this Thursday, March 3, until Sunday 6, there will be a series of events looking at the realities of human rights in Scotland. The whole thing takes place at the Centre for Contemporary Arts on Sauchiehall Street and even better, it's all free.
Some of it looks directly at mental health issues, but looking through the programme, it seems that every event has something to say about mental wellbeing. There's a photo of a placard on their website that says "equality is the best therapy". It's definitely true that there's a complicated relationship between health, rights and discrimination.
Here are a few highlights. Visit the Declaration website for the full programme and to book your tickets.
If you go and see anything, we'd love to hear about it. Let us know what you thought.