The symbolic nature of The Olympic Torch Relay is certain, but symbolizing what? When it passed through Glasgow on June 8th there was definitely a hunger for some meaning to the event – the hope of re-igniting community pride and inclusiveness perhaps? There was an understandable amount of healthy skepticism around on day 21 (of 70) of the relay, yet signs of a desire for something more meaningful or substantial.
Respect was given to providers and participants of community services throughout the city with a large number of torchbearers coming from these groups. In the Southside of the city, recovering drug user John Hall had his moment in front of the media. This is due to the progress he has made mentally and physically with The New Horizons Centre organized by Mothers Against Drugs. Now organizing the projects football team, he has regained custody of his children.  He continues to enjoy participating and helping others. Carrying the flame is a tribute to the distance he has come on the path to recovery.
BBC coverage continued on to Giffnock, where a huge crowd eagerly awaited it. Typically of Glasgow a voice could be heard over the rest – a wee boy's voice shouting "You're a big jobbie!" this seemed like an appropriate signal for the flame to go into 'convoy mode' during which it travelled by white van at speed north to Kelvingrove before continuing by torchbearer towards the city centre. Although watching the live coverage on the internet or television was fine, it didn't compare to experiencing in person.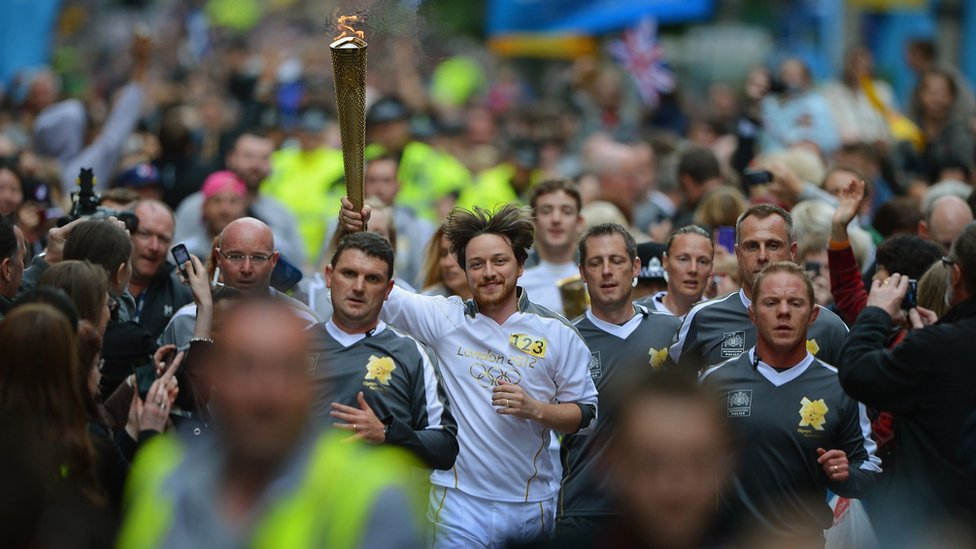 Runner no.123 was actor James McAvoy, who ran down Buchanan Street stopping at St Enochs before holding the torch aloft and shouting "Three cheers for Glasgow!" Bless you, MrMcAvoy! This was enthusiastically welcomed by spectators waiting for the flame to pass. There was like a moment of civic pride before the flame moved on and the feeling quickly passed.
The emotional connection that was felt by the crowd that moment is what community's around Glasgow need more of. Not just a fleeting excuse for self-esteem but a lasting concrete beacon. Recognising the value of local work done to promote mental and physical health should be an everyday thing. National Jamborees can't replace the solid work of participants and service providers who deserve celebrating on a more regular basis.
We need to keep the torch of hope lit for the hard hit local projects – the true beacons that have to continue long after The Olympic flame has moved on.
Story by K. G.